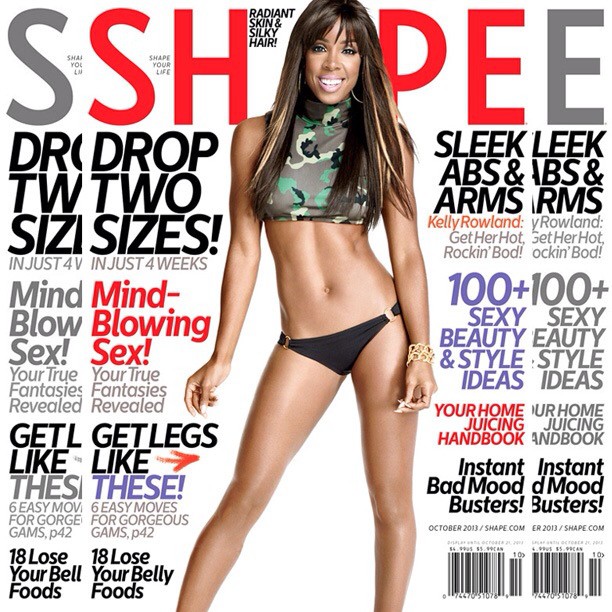 Kelly Rowland has always been fit, but she looks better and more toned than ever on the cover of SHAPE magazine's October issue. Posing in a camo-print crop top and skimpy black bikini bottoms, the new 'X Factor' US judge shows off her killer abs, sculpted arms, and long, lean legs.
Kelly remains determined to stay extremely fit, and she is actually sharing her personal workout in her sophomore fitness DVD. The R&B chanteuse has teamed up with her friend and trainer Jeanette Jenkins for the second time with the upcoming workout video, 'Sexy Abs Cardio Sculpt.'
In the new issue of SHAPE Rowland talks about how she keeps herself mentally and physically grounded. That killer body? She has to work for it, and work hard. "I work out five or six times a week. I feel better, look better, sleep better," she says. "As I'm getting older, the Rowland family trait of having bigger bottoms is taking its toll on my hips and butt. The other day, [my trainer] had me doing squats that were so hard I wanted to kill her. But my behind is getting higher and tighter. Exercise really does change your body."
For more on Kelly's new music, fitness favorites, and go-to playlist, pick up the October issue of SHAPE, on stands and iPads nationwide on September 13.
Tags: Kelly Rowland