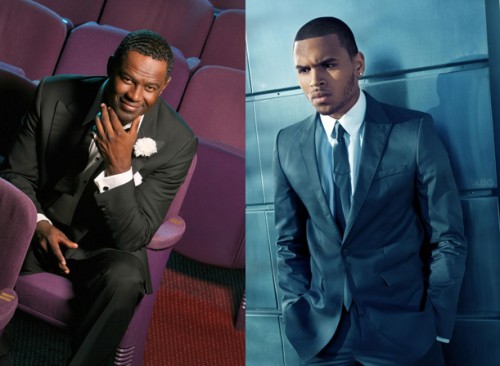 Son of a bitch, here we go. This is so unnecessary, but Brian McKnight was venting some frustrations over today's society and he might have put other peoples business out there a little too much, one of which was Chris Brown, who we know loves to act a fool on Twitter, and is never one to let any comment, direct or subliminal go without a response.
Brian also addressed Floyd Mayweather and R. Kelly's old case, a little corny to be bringing up such an old situation as that, but Brian is obviously struggling with the comments he is getting for his so called attempt to create discussion over our sex driven society, starting with his "pu**y" song "If Ur Ready 2 Learn" and followed by his totally insane anthem for porn website YouPorn.
See the tweets below…
Since everyone's so opinionated I'm taking suggestions on what I should do next I'm thinking rent a lambo and beat the shit outta my girl…That's acceptable these days

Or maybe have sex with a 14 year old girl on film it, that's acceptable these days

Or let the court system let me make 35 million before I do my 87 days in a private cell for domestic abuse that's acceptable these days

It's not shade I'm just reminding all of us what we accept on a daily basis
Chris responded…
What do you think?? Is Brian right for all of this, or should he sit down? There are thousands of other normal people with similar or worse incidents that haven happened in this world, yet he wants to bring up other R&B singers, for what? to compare to what? My question is, if he is supposedly doing so well touring every year, why does he feel it's necessary for him to bring up these issues? Does he really think young people want to be "learned" about their problems, or our societies continued issues, From him? We know Chris was wrong for what he did, we know R. Kelly was wrong, with Floyd's situation, we all know money talks. Is the example Brian is setting actually the right one?
Tags: Brian McKnight, Chris Brown