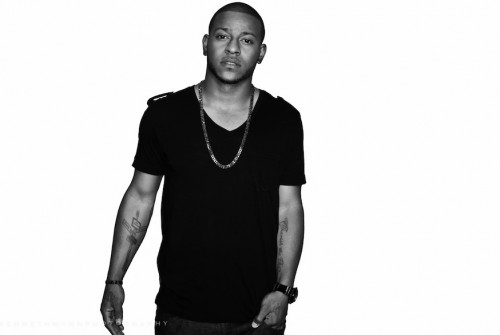 Burgeoning singer-songwriter Eric Bellinger is certainly making a big name for himself within the industry this year. Recently penning Ashanti's comeback single, "The Woman You Love," the title song to Think Like A Man, sung by Jennifer Hudson & Ne-Yo, and Usher's upcoming single "Let Me See" featuring Rick Ross.
Eric is currently in the studio with Usher, Nelly, Chris Brown, JoJo, Brandy, Justin Bieber, and Kelly Rowland. Along with working on his anticipated third mixtape "Born II Sing Vol. 3."
The LA based hitmaker took out some time from his busy schedule to talk to us about writing the title song to Steve Harvey's movie, the huge duet "Think Like A Man" by J-Hud & Ne-Yo, landing Usher's next big single "Let Me See," his work with Kelly Rowland on her next solo album, what we can expect from his upcoming mixtape and more!
Check it all out below…

Talk to us about writing one of the hottest new R&B duets, and movie theme song to "Think Like A Man." Were you aware it would be recorded by Jennifer Hudson and Ne-Yo?
Maan! It's awesome, I wasn't initially writing the song for the movie, and I wasn't in the studio session for the recording – but Tricky heard the song and suggested that if we tweaked it a little bit he thought it would be a good fit for the movie. Things took off so quick from there like within a week, I found out Jennifer Hudson was gonna do it and I found out Ne-Yo was on it too and I was like wow, and when they told me Rick Ross hopped on it I was like wonderful! So, it was amazing to be a part of a record that took off so quickly and be connected to a movie like Think Like A Man.
Talk to us about working on Usher's new single "Let Me See." Was it just a writing session or were you in the studio with Jim Jonsin and Usher for that one?
For me, as an artist that has always admired Usher's music and creativity – to be able to work with him was a major experience for me. We were at writers camp and when I wrote the record and people heard it – the reaction to it was pretty much like 'this is definitely an Usher record!" When Usher heard it he was like 'who is this guy?' Whenever we work together it's nothing but creative energy – it's been a good experience for me as an artist and a songwriter.
Kelly Rowland, recently told MTV she is working on a "concept" for her next album, we heard you have been writing with her. Can you tell us how that has been going?
Kelly is a sweet spirit, and a passionate artist so working with her was great. But basically her album will be something that touches on real life situations that everybody can relate to. Coming off of that record 'Motivation' which was really big for her – we've been going in and have a lot of good music coming from her next album.
Talk to us about your next mixtape… What will the theme and style be this time?
My first mixtape was a little underground and I kinda just put it out there, my second one is on a lot of blogs and people can download it and has a lot of buzz around it with the features I have on it. With the third one It will be "Born ll Sing Vol.3″ to kinda show the fans that I do have a lot of music … it's gonna have some tracks on there that's really feel good and little bit more commercial.
Your last tape had some big features, will this project as well?
I've reached out to a few big names like Meek Mill, J.Cole and a few more and working with producers like Da Interz , T-Minus and Hit-Boy … I've got a lot planned for this one.
What is one of your favorite tracks we should look out for?
"Circle of Love"- that's the one that I think really jumps out to me!
Eric is currently prepping the release of his next project, so stay tuned for that, and in the mean time you can stay up to date with him at,
IamEricB2.com
Twitter.com/Ericbellinger
Tags: eric bellinger, Jennifer Hudson, Kelly Rowland, Ne-Yo, Usher