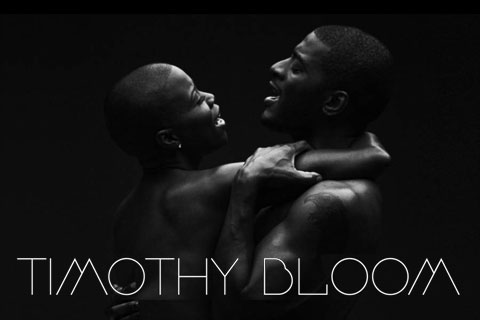 I said it previously and I will say it again. These days it is so rare for an artist to hit the scene with an incredible first single and stunning video immediately. While he didn't just completely drop down from outer space, newcomer Timothy Bloom has been way under the radar. No longer will that be the case. Setting the internet ablaze earlier this week with the release of his debut video and single "Til' The End Of Time," an emotional, sensual duet with another talented unknown singer named V. Bozeman. This singer/songwriter/musician is now poised to show and prove that he is the newest soul artist to watch this year.

Bloom is set to release an EP titled "The Budding Rose" on March 8, to further introduce his artistry to the world. As he leads in to the release of his debut album, In Full Bloom, which is currently due out later this year via Zone 4/Mosley Music Group / Interscope Records. Bloom collaborated with both Polow Da Don and Timbaland, marking only the second time the two have collaborated together. Their first collaboration being the super talented and beautiful Keri Hilson.
Born in El Paso, Texas and mostly raised in Fayetteville, North Carolina, Bloom spent his childhood as a self-proclaimed gypsy; moving from place to place absorbing different cultures and different sounds. Now preparing his debut album, Bloom feels it necessary to incorporate all of his experiences into his music.
"I don't want to be placed into a box. I don't like to be limited when it comes to life. I want to be able to be who I am and everything I am – especially in my music."
Being the third person to play on Nat King Coles grand piano besides Stevie Wonder, Bloom has had the pleasure of working with Smokey Robinson ("My World," "Fallen in Love,") Ne-Yo ("Say It,") Usher's group One Chance ("Emotional") and sultry singer Felisa Mirasol just to name a few. Influenced by the likes of Cat Stevens, Jimmy Hendrix, and Marvin Gaye, Timothy has blossomed as an artist. Now working on his debut album In Full Bloom, he is committed to setting new standards of greatness within timeless pieces. He's ready to take the world by storm. Armed with enchanting lyrics, innovative melodies over powerful chord progressions, and shear raw talent, Timothy Bloom is exactly what the music scene is missing.
If you haven't seen it yet, or even if you have, watch Timothy's video for "Til' The End Of Time" now.
Previously: Video/Emerging Artist: Timothy Bloom feat. V. Bozeman – Til' The End Of Time
Tags: timothy bloom, v. bozeman