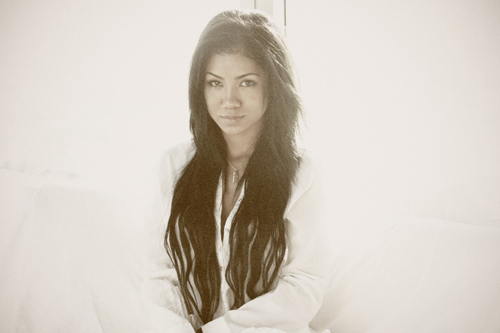 R&B has had it's number of artists come and go over the years.. Even the ones that produce stellar singles – or albums – can become victim to being a one hit wonder. Timing though, is one of the key factors to any artist staying relevant and respected in this tricky industry. Sometimes though, an artist can get the timing right and choose to walk away on their own only to reappear and have the timing be even better than before. This can definitely be said about bubbling songstress, Jhené Aiko.
Introduced to the world in the early 2000′s through the group B2K, Jhené wowed fans with both her exotic looks and vocals on tracks with the young heartthrobs. Although her talent has been exemplified for many years, it wasn't until she took her career by the anchor and decided to sail in her own direction. Now, many years after her arrival onto the scene, the 25-year-old L.A. native has found a place in the heart of fans all over with her new music, including features on some of today's hottest songs. Recently releasing her new EP Sail Out, as a follow-up to the 2011 acclaimed mixtape, 'Sailing Souls,' Jhené seems to be setting her ship on the right journey as she's cruising her way into fame.
Known as an R&B fan favorite for the past couple years, Jhené is on her way to reaching new heights in her career. Proving that there's nothing in this world that you can't accomplish if you just continue to push through it, this young woman is taking over the scene with every day that passes. While in the middle of her hectic schedule and tour dates on Drake's "Would You Like A Tour," ThisIsRnB got the chance to chop it up with the songstress about her debut EP 'Souled Out,' the creative vision behind her new video for "The Worst," new song "Drinking and Driving" off Solange Knowles 'Saint Heron' compilation, touring with Drake and much more!
Get to know Jhené better through the exclusive interview below!