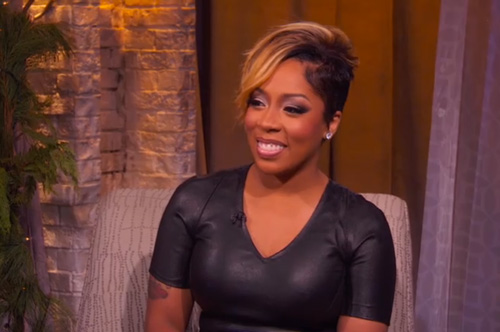 K. Michelle returned to VH1 for a performance and interview on Thursday. The singer/reality star sat down with Carrie Keagan on "Big Morning Buzz Live" to discuss her dating life and snub at the Grammys. When nominations were announced last week, the R&B singer was shut out of all categories.
"The line was too long at Western Union. I was doing a little Christmas shopping, so I didn't make it," she said. "But people are entitled to their opinion. This is my first album. I'm a new artist, not a self-proclaimed new artist, really a new artist. So with that being said, I just feel like there's a lot of time for it."
While she admits to being disappointed, she is using it as motivation. "I was a little hurt, but I truly feel like with my gift and my ability to write songs that touch people, that there's always next year. That's what we'll aim for. We'll just work even harder."
The star of VH1′s upcoming show "No New Friends" has been dating, but she's not so quick to give up the goods. "It's gonna take a special man," said K. "I just don't want to give all my goodies away to undeserving creatures."
She also shared a tip for the ladies. "Apple cider vinegar works," she said. "They say it's supposed to tighten it and make it friendly."
In addition to her brief chat, the R&B songstress graced the stage with a performance of her next single, "Can't Raise a Man" off Rebellious Soul. Check out the clips below!