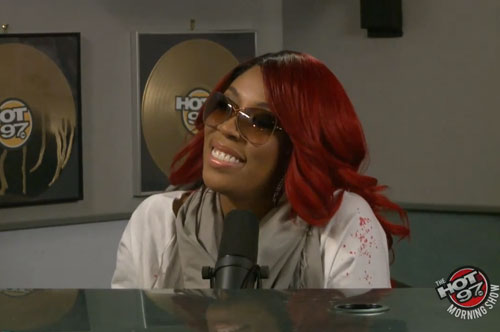 K. Michelle has one of the biggest personalities that we've seen in quite some time. Gaining her rise to stardom right in front of our eyes, the powerful singer has grown to be one of our favorite success stories of the last few years.
While her debut album, Rebellious Soul, is still in heavy rotation, K wasted no time delivering something new for the fans. Dropping her V-Day mixtape to serve as a hold over, the star is steadily working in all of her areas. With a new reality show on the way and rumored appearance on the next season of Celebrity Apprentice, if there's one thing you have to give her credit for, it's her grind.
Sitting down with Hot 97′s Ebro, K. Michelle talked about her new mixtape and why she delivered it so soon. While she's know for giving interesting interviews, the comical relief appeared during the grilling of Ebro and his daughter. Obviously having more than just a "friend" vibe between, the conversation between the two is a sight to witness.
Check out the interview below.