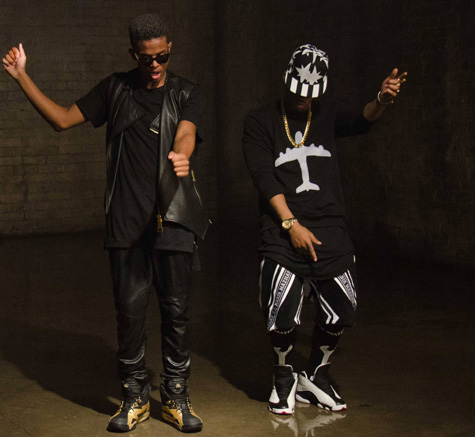 The heavens and the stars must've aligned this weekend because grown women and teens alike can swoon all in one place now! Teaming up to finally bring fans the video for the remix to his hit single "Drop It," Trevor Jackson and B.o.B. are ready to breathe new life to the track again.
Shooting the seemingly hype video in L.A., the 17-year-old heartthrob called on director Mike Ho once again to bring fire to the set. Opting to go with a strictly visual approach this time around, the talented director stated, "You're gonna see more chemistry and more performance-driven [scenes], but beautiful shots."
Stating that this is only his second time meeting label mate B.o.B., Trevor and the Hustle Gang rapper seemed like long lost brothers in the clips. Dressed in black and white ensembles, both men show off their talent in front of the camera while making the ladies drop it by the end of the night.
While the official video doesn't debut until Wednesday night on BET's 106 & Park, you can catch some behind the scenes footage below!