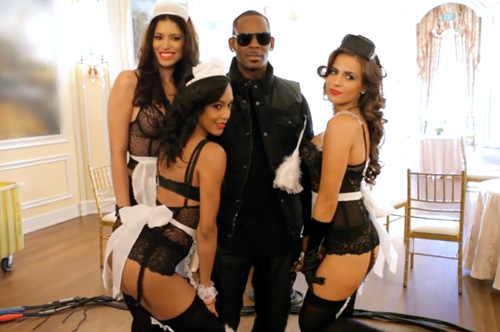 R. Kelly took R&B to the trap house on his latest single "Cookie," off his new album Black Panties. But, you won't find Kellz shooting the video in the hood, instead he brought the hood to a giant mansion, which he rented to film the upcoming visuals, and now he is giving fans a inside look at the making of the video.
The self-proclaimed "Cookie Monster" is throwing the sexiest party of the year, as he filled the estate with tons of beautiful ladies wearing nothing but lingerie. Kellz relaxes in his luxurious office smoking a cigar, while girls rub all over him in one scene. In another he pours milk into a bath tub while singing about "licking the middle like an Oreo."
"I got all kinds of cookies up in here, they're round, they're square, they're triangle, some of them are heart shaped, some of them are people shaped, beautiful women shaped cookies," explained R. Kelly.
Go behind-the-scenes of the "Cookie" video below!