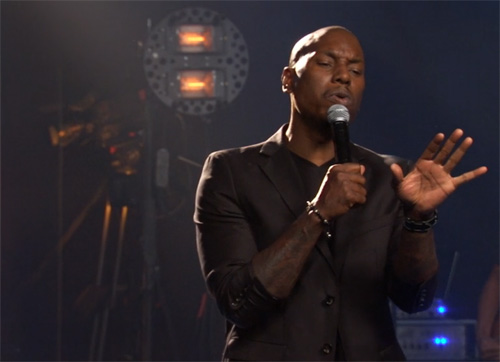 Tyrese is the latest R&B star to visit the stage of AOL Sessions. The singer/actor brought love, intimate feelings and some personal thoughts to AOL's Los Angeles studio with an exclusive performance of some of his classic tracks like "Sweet Lady," "How You Gonna Act Like That," and his most recent hit "Stay."
In his incredibly candid interview Ty opened up about his own personal struggles, he proudly admits he's in treatment for anger management, in which he made the choice to go himself. He revealed a very personal and intimate experience with a fan, compared what he gets out of music versus acting, and spoke in more detail about taking the independent route with his well received new album Open Invitation.
Watch the smooth set and interview below…

"Are You Ready"
"Sweet Lady"
"How You Gonna Act Like Like That"
"Stay"
Interview
Read the additional interview below…
When did you personally realize you needed to get out of your own way?
Many years ago. I knew I had to get out of my own way before the actual quote hit me. Sometimes you can find yourself living your life a certain kind of way or having a certain mentality, but you don't necessarily have a quote to go along with it. My mentor said you need to get out of our own way. And I was like, that's it. It became kind of like a lifestyle of mine.
I wake up every day just trying to figure out what can I do to be better, do better, achieve more, and, I mean, even to the point — and I'm not even ashamed to say this, right now — I'm in anger management, and I'm in anger management because I decided to do it on my own. Because the question becomes what's going on with my attitude at times that can be getting in the way of me getting to the next level in my career or in my personal life. And so it's one thing for the court to say you've got to go to anger management, it's another thing for you to sign up on your own. And so that's who I am. I'm a man who's always trying to evolve and figure out how to get to the next level of me.
What has been the most random experience, object or quote that has inspired you to write a song?
I don't really know if that woman's body part is considered an object, but I'll talk about that in another interview. I'm sure this is PG-13. There have been many things, I mean, there are arguments, there are conflicts, there are issues, there are challenges in relationships, there are misunderstandings. There's a lot of different things that could inspire a song. There's also love. It's also a woman coming in your life, introducing you to different versions of what love is that you never experienced before she got there. All of these different things can inspire me as a songwriter, singer, to get in the vocal booth and make it happen.
Tags: Tyrese