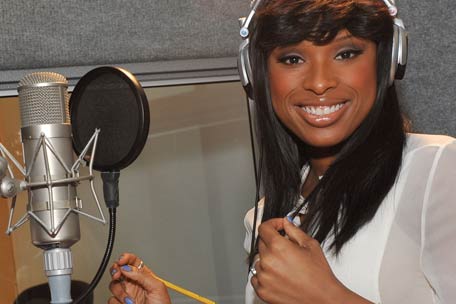 Jennifer Hudson is one busy lady. The multi-award winning singer/actress is juggling both hats, with movies and TV shows on the horizon J-Hud is still recording as well, and has been chosen by Pampers to recreate a classic lullaby, also known as Brahms' "Lullaby." Mothers all over will now have an updated version of the tune to play for their babies, with Hudson's personal touch. The track will be available as a free download on the Pampers Facebook page and the company is donating $100,000 to the Julian D. King Gift Foundation, the charity Hudson and her sister created in honor of her slain nephew.
In a recent interview the Chicago native spoke to AOL's The Boombox about the new song, her next album, what artists are currently inspiring her, and the much anticipated return of D'Angelo. Check out a portion of the interview below…

You're recording a track for Pampers, but are you recording any music for a future album?

I'm not working on an album right now. I'm gearing up to start working on my next album. I plan on writing more and getting more involved. More creatively, musically, in just every way. I want to even produce some things in more of a creative space in my next project, but more so from a writing standpoint. But that is coming very soon.
Who do you want to work with on your next project?
Well, I would like to keep songwriters like Diane Warren. She's amazing. Salaam and Harvey Mason, those three will probably stay just the same. But I do want to venture out and see what's out there. I wouldn't mind working with newcomers with a fresh vision and new creatives, stuff like that.
Any new artists you've been inspired by?

I'm inspired by Luke James, Bruno Mars. I'm excited about Jessie J. And like the regulars: Usher, Beyonce, Rihanna, Alicia [Keys], which she worked with me on my last album. I just love music.

Many music fans have been excited about the return of D'Angelo. Are you a fan and do you have a favorite song by him?
Everything that he does. I like "Higher." I like "Africa." Africa is my descent. I just want him to come back. He's another one that I loved before now, but he's still quite not old, old school, but he still has that flair and I feel like he needs to bring that today. And he's a true musician, he knows music, and I love that. I'm rooting for him. I can't wait for him to return.
Tags: Jennifer Hudson