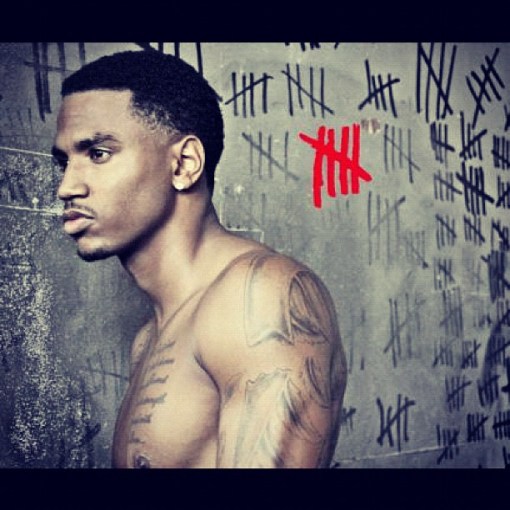 Last week, during his promotional visit to NYC Trey Songz rented a room at Jungle City Studios and invited Complex Magazine in to preview some select tracks from his forthcoming anticipated album Chapter V.
White roses and candles made the room feel more like a place for bedroom exploits than a listening session. The man who invented sex was in his element.

"I'm excited as hell to hear them loud," Trey said before queuing up the six songs that he's almost positive will make the final cut of the album, which is tentatively set to drop in August.

After some extensive touring in Europe, South Africa, and Australia last year and seeing the impact his music had on his fans, the singer gained a new appreciation for where he is in his career right now. "I realized I'm here for a reason," Trey said. "It's an amazing experience to be who I am right now."
Read the Chapter V preview below…

1. "Heart Attack" – If you haven't heard it yet, Click Here.
2. "Two Reasons" – "This one's a little ignorant," Trey said before playing this T.I.-featuring banger. "When I walk into the club, I got to hear my shit." The thumping cut is sure to accomplish just that as Trey clearly states his motivation for hitting nightclubs. "I only came here for two reasons," he sings on the track. "The bitches and the drinks…" Tip joins the fun, Southern charm intact, saying that he and Trey have been wild boys "since we were minors."
3. "Dive In" – This freaky cut—which Trey wrote and produced with frequent collaborator Troy Taylor—is layered with smooth guitars riffs and lyrics about pleasuring a woman. The first two verses fittingly begin with the words "Splash" and "Drip." While throughout the song Trey croons about how he loves "swimming in your body," that he "ain't coming up for air," and "there ain't no running around this pool!" Yeah, this one's nasty. And it closes with him audibly swimming. Perfect.
4. "Without A Woman" – Before starting this big ballad, Trey talked about how the R&B genre isn't what it used to be when legends like Luther Vandross could sell out major venues like Madison Square Garden without a crossover pop record. In short, when R&B or soul was pop. He didn't quite go on to claim that he's going to rescue the genre, but he did say that "if somebody doesn't keep it alive, it's gon' die. This is the essence of a soulful record."
"A man can't be a man without a woman," Trey sings, his passionate lyrics reinforced by a live horn section. "Nobody's doing that right now," Trey's manager Kevin Liles said after the song ended, citing that Trey was raised by his mother alone and always gives strong women all his love.
5. "Ladies Go Wild" – This song represents an adventurous turn for Trey, who usually doesn't venture into Euro-pop sounds. "It's a little different for me," he conceded of the track, which he put together with Troy Taylor and Teetimus Da Producer. It's probably the closest he'll ever get to Jersey Shore fist-pumping music. Situation and Snooki types will eat it up, though.
6. "Simply Amazing" – This mid-tempo cut shows Trey's growth and radio platform reach. V has songs for his core twenty-something R&B audience, as well as ones that surely will do damage on pop charts, and "Amazing," which likely should score big on adult contemporary stations.
Sharing his undying love for his lady through pitfalls and struggle, Trey pours his heart out. "There is nothing in this world that could keep me from you," he sings. It will fit nicely alongside the likes of Usher's "There Goes My Baby" and Charlie Wilson's "You Are." Sounds like R&B is alive and well—for now.
Tags: Trey Songz